Please enter search criteria
During peak ordering times (beginning of semesters), online orders may take 3-5 business days to process.
Select Term and Departments
Riverland Community College, a member of the Minnesota State system, is an equal opportunity, affirmative action educator and employer. Riverland Community College is accredited by the NCA Higher Learning Commission.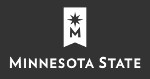 Austin Book List Book Orders:
Online purchases require 1 full business day for processing.
A printed schedule is required when purchasing textbooks online or in the Bookstore.

You will need to know the subject, course, & section number.

Example: ACCT 2012-70
Each Course ID specifies course, location, & instructor; therefore different locations or instructors could mean different books.

Prices and ISBN numbers are subject to change
Textbooks are campus specific: Please order textbooks through your campus bookstore based on class location; Books for online classes are available at all 3 locations
If a course is not listed, the instructor has not submitted a book list as of yet. Book lists change daily and checking back frequently is recommended
If a textbook has a price of $0.00 the book is currently unavailable for purchase
"Used" prices are listed for most books. If you choose "used preferred" when ordering, that will be the first preference when we fill your order. If no used books are available, we will fill your order with new books.
Classes may require materials that are bundled or include access codes that are only available for one semester. Use caution when purchasing those books from other sources and verify all materials are included or active.
A Rental option is available for select textbooks. If available, the rental price will appear under the new and used prices when using the textbook information tool. Your Student ID number (8 digits) and agreement to the rental policy are required at checkout.