Please enter search criteria
Bookstore Policies and Information
Mission & Vision of the Riverland Bookstores
The Campus Bookstores support Riverland's Mission and Vision by:
Providing the course materials students need to be successful in the classroom to support their excellence in service
Assisting our faculty with course material orders to support excellence in teaching
Providing Bookstore scholarships to support financial needs
Offering programs to encourage student savings: Used Wholesale Book Options, Textbook Buyback, Textbook Rental & eBook Programs
Key Bookstore Information
Book Orders
Online purchases require 3-5 full business days for processing.
A schedule is required when purchasing textbooks online or in the Bookstore.

You will need to know the subject, course, & section number.

Example: ACCT 2012-70
Each Course ID specifies course, location, & instructor; therefore different locations or instructors could mean different books.

Prices and ISBN numbers are subject to change.
Textbooks are campus specific: Please order textbooks through your campus bookstore based on class location; Books for online classes are available at both Austin and Albert Lea locations.
If a course is not listed, the instructor has not submitted a book list as of yet. Book lists change daily and checking back frequently is recommended.
If a textbook has a price of $0.00 the book is currently unavailable for purchase.
"Used" prices are listed for most books. If you choose "used preferred" when ordering, that will be the first preference when we fill your order. If no used books are available, we will fill your order with new books.
Classes may require materials that are bundled or include access codes that are only available for one semester. Use caution when purchasing those books from other sources and verify all materials are included or active.
A Rental option is available for select textbooks. If available, the rental price will appear under the new and used prices when using the textbook information tool. A Student ID and agreement to the rental policy are required at checkout.
Merchandise Orders
Online purchases require 3-5 full business days for processing.
Merchandise orders not partnered with textbooks have a $10 purchase minimum.
Inventory on clothing and general merchandise varies daily. Should the item you order be out of stock, you will be contacted with how to proceed.
Shipping & Pick Up
All online orders are charged a $2.00 handling fee.
Our orders are shipped via UPS. We cannot ship to P.O. Boxes. All continental U.S. shipments will be charged $10.00, plus $2.00 for each book. EX: 2 books = $14.00 Shipping Charge.

International, Alaska, and Hawaii shipments will be charged exact cost for shipping.
When placing your order, you have the option to "Pick up in store". You must pick up your books from the store you place the order through.

If there is more information you would like us to know about the order please make that note in the "Message to Send with Order" field.
Payment
Riverland Bookstores only accept Visa or MasterCard. We do not accept American Express or Discover in stores or online.
Paying with a gift certificate is allowed online but a second payment form is required. Please use the 3 or 4 digit code at the top of your printed gift certificate receipt.
Charging against financial aid is only available until the 4th day of each semester. A Student ID number is required for charges.
We screen diligently for credit card fraud.
Key Bookstore Policies
Return Policy
**Receipts Required for All Returns**
Cash or check- refund will be in cash (Check takes 10 days to clear at bank; refund cannot be issued until check clears).
Credit/debit card- a refund credited back to the original purchase card; the card must be present for in store returns.
Financial aid charge- the refund will be credited back to your financial aid account and a refund will be issued by the business office.
Textbook Returns
Textbooks may be returned until the 7th day of the semester for a refund. If a textbook is purchased after the 7th day of the semester it may be returned within 1 week of the purchase date for a refund. No refunds will be given after this date. Your only option will be buyback online or on campus at the end of the semester.
Do not take the shrink wrap off or write in your book before you have been to class and are positive that you will stay in the course. An unwrapped, marked (writing/highlighting), or damaged book is a used book and will only be refunded at 50%.
Access Codes, CD's and other media products must be unopened or the entire bundle will be refunded at 50%. Once an access code has been scratched, opened, or used, no refund is available.
Merchandise Returns
The Riverland Bookstores want you to be satisfied with all of your purchases. If, for any reason, you are not pleased with your purchase you may return it for an exchange or refund within 15 days of original purchase date. To receive a refund, your original product receipt is required.
Apparel items may be returned within 15 days of the purchase. The tags must be attached to the apparel item for a refund.
During any store sales the sale price is only valid on new apparel purchases, all previous transactions and clearance items are excluded.
All opened non-apparel merchandise purchases are final.
If you need to exchange or return an item you ordered online from our Web site, please repackage your order and ship it to:
Riverland Community College
Attn: Bookstore
1600 8th Avenue NW
Austin, MN 55912
Please make sure your return package includes all original packaging, paperwork and receipts. We recommend shipping all merchandise returns to us via UPS. We will credit the same credit card account we charged on your order. Standard shipping charges will be applied to orders that are reshipped.
PSEO Book Policy
The PSEO program covers course tuition, fees, textbooks, and required supplies which the student must return. PSEO textbooks are the property of Riverland Community College. The program does not cover Prep Courses and uniforms, general school supplies such as notebooks, pens, pencils, etc. There are a limited number of financial exclusions to the program, this includes courses under 1000 and textbooks not required for courses. These must be paid for by the student.
Riverland Community College, a member of the Minnesota State system, is an equal opportunity, affirmative action educator and employer. Riverland Community College is accredited by the NCA Higher Learning Commission.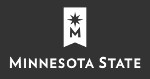 Riverland Community College, a member of the Minnesota State system, is an equal opportunity, affirmative action educator and employer. Riverland Community College is accredited by the NCA Higher Learning Commission.